Yoga & Ayurveda : an indissociable whole
Yoga treats the mind by the means of the body. Ayurveda treats the body by the means of Nature and through YOUR nature.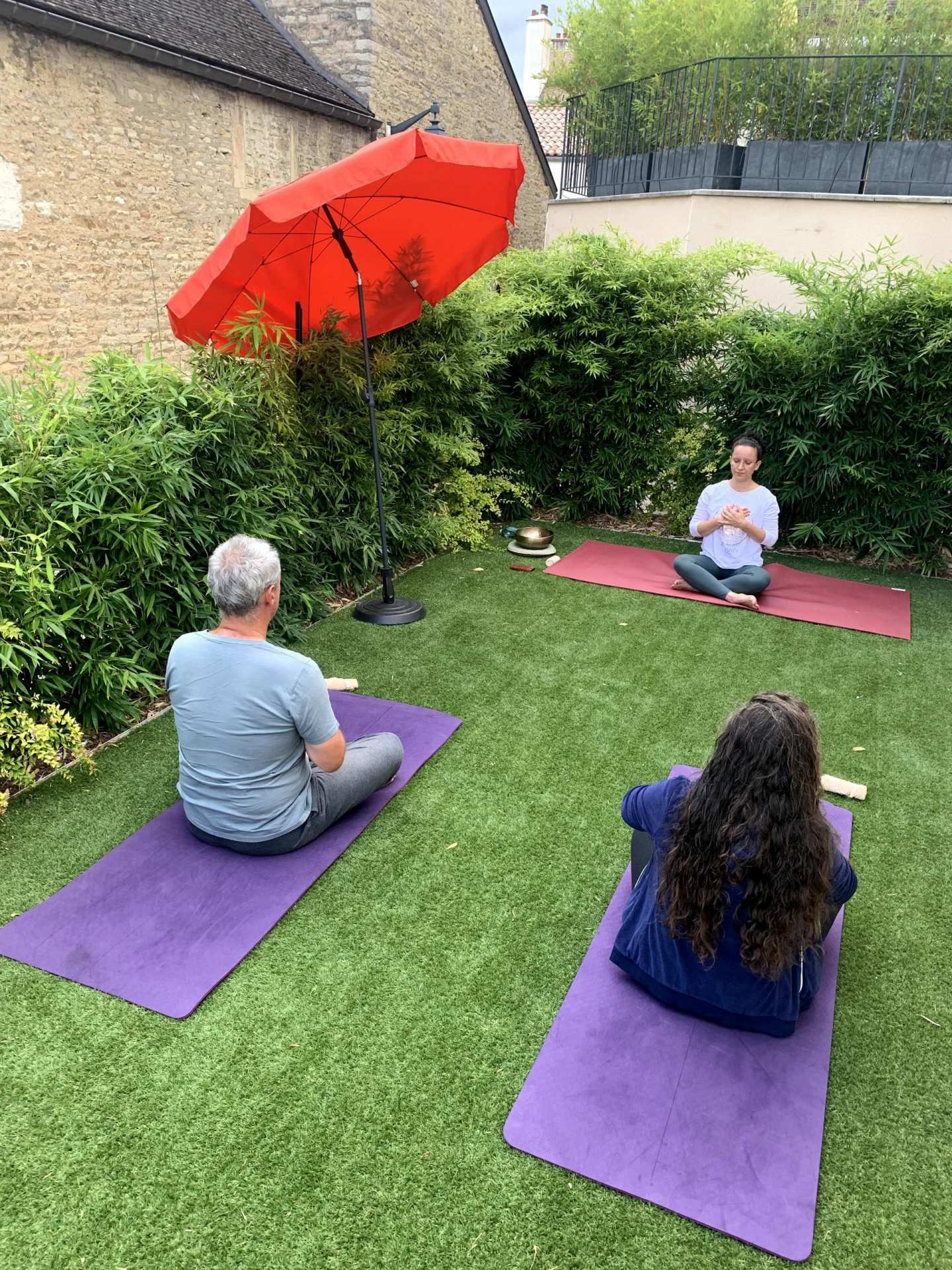 Yoga, meditation, breathing and Ayurveda aim a same goal: your balance!
If you add meditation and breathing, you have all the assets to restore your original natural state namely a healthy mind in a healthy body. 
Le Cep and  Centre de Mieux-Être Marie de Bourgogne are both pursuing this purpose so they provide you with yoga courses, meditation and daily breathing during your Ayurvedic cures. In this regard, we selected the best professionals in these fields. The courses adapted to the level of each participant, are provided directly within Hotel Le Cep*****, in the room Philippe Lebon or outside, on our landscaped terrace.
You will also be able to enjoy Le Cep's courtyards after a 30 minute walk throughout Beaune's vineyards, in order to reach our private area in the middle of the forest in the lovely place known as "La Montagne" of Beaune.
This hike, perfect for hillsides and appellations readings, is a beautiful way of combining Burgundy culture with well-being!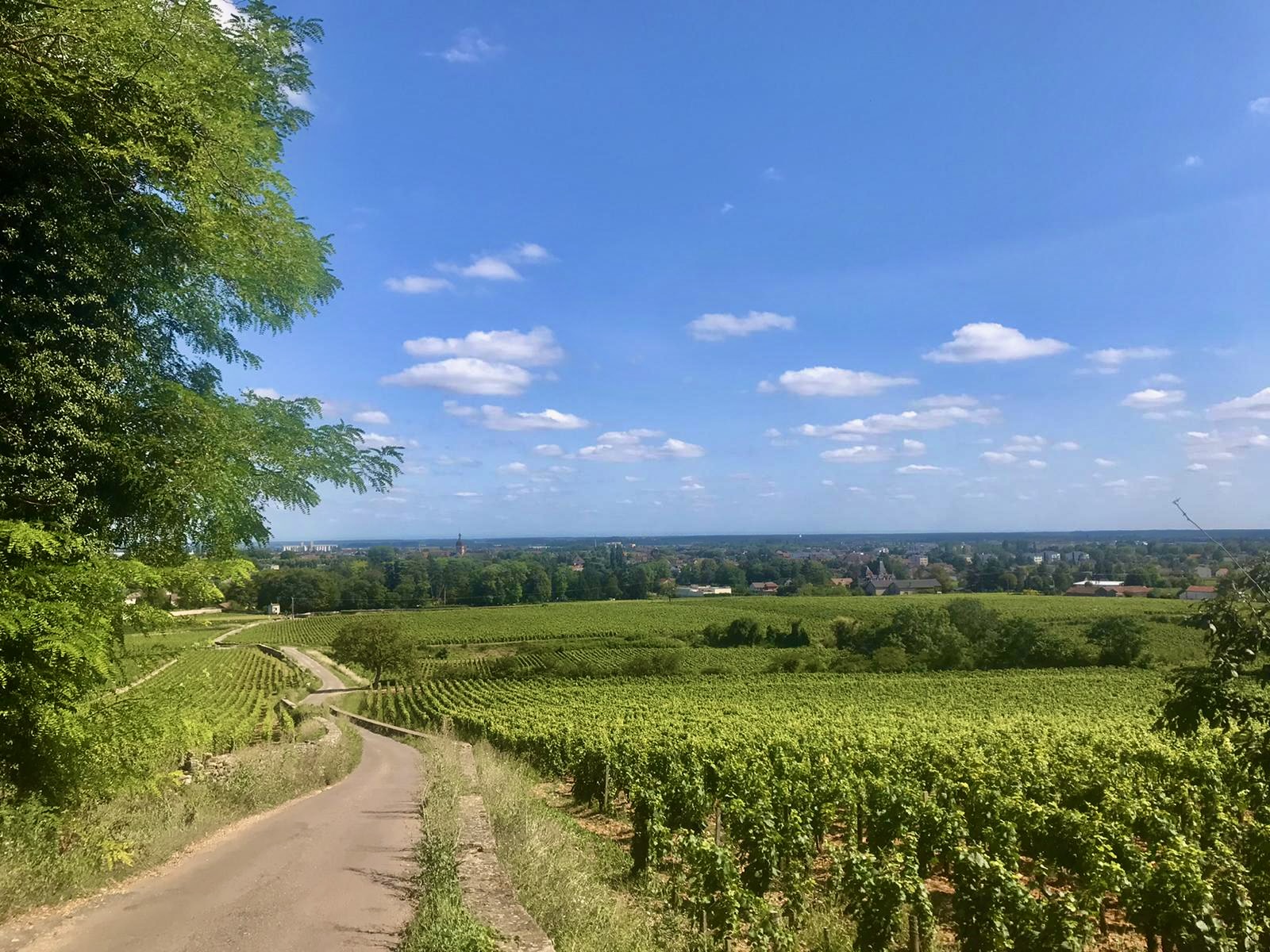 Discover Yoga and progress at your own pace!
Yoga and Ayurveda are two holistic sciences that are rooted in the Vedic tradition of India. Yoga and Ayurveda consider the human being as a "whole": body, mind and soul. They give a spiritual dimension to the human being, but not in the religious sense. They deal with our needs such as physical health, Well-being or the fulfilment of our upper conscience. In India, they are practiced jointly. They are both part of the great Vedic system that assumes that the Universe is UN (Unicity) and that the key of Knowledge lies in the heart of each of us.
Ayurveda and Yoga jointly developped.
Yoga is a science and a vedic philosophy of the Self-Realization in the spiritual acceptance of the term; it stands for the primary and ultimate identity of the multi-faceted being.
To achieve that, it includes physical postures, an ethical discipline, the breathing control, sensory practices, statements and visualizations, mantras and meditative practices.  
Yoga allows to pay attention to body and mind. Spiritual realization can only be achieved through the body, a healthy body. It aims the balance. Without care, the body gets ill and does not enable to fulfil the yogic process successfully.
The link between Yoga and Ayurveda is called Prana. What is Prana?
Somehow Prana is the "vital breathing breath"or "essential energy". Yoga is the intelligence of Prana (life force) pursuing upper evolutive transformations whereas Ayurveda is the healing power that helps strengthen the vital systems. Yoga and Ayurveda represent a comprehensive discipline and they are taught jointly in India and in some Western schools. These two systems allow to really transform our life so as to step up from the physical level to the highest spiritual level with outstanding creativity and vitality.  
Kundalini Yoga, one of the forms of yoga offered at the Marie de Bourgogne Ayurvedic Center
Kundalini yoga will offer virtues on different aspects of our body and our mind. Note that to get the most of these different benefits, it is recommended to practice this yoga on a regular basis.
The benefits from a physical point of view
First of all, it is important to mention the benefits that are obvious in physical terms so, more precisely, that have a direct impact on our health.
The persons that resort to these disciplines may notice positive effects on different parts of their body such as the digestive system, nervous system, lymphatic system or even the glandular system. More generally they will be more relaxed and will improve their breathing capacities
.
The benefits from a mental point of view
In mental terms, one can mention an essential benefit on our vitality. In addition to revitalizing our body, the followers of Kundalini Yoga will be able to notice an energy boost in their mind as well as a reduction in stress.  
This discipline will also allow to find a more vivid mind while alleviating some anxiety or depression disorders, which will be also mentioned in the list of benefits at an emotional level
The benefits from an emotional point of view
In emotional terms, Kundalini yoga shall also offer several advantages. For instance, by helping us to truly master our mind, it will be possible to benefit from a state of calm and to enjoy a return to peace.   
For a lot of people, this discipline helps to get rid of negative attitudes altogether, destructive thoughts or our behaviours that can be detrimental to our psychological Well-being. More generaly, Kundalini yoga is considered as enabling to commune with oneself and to get involved in a much more positive approach. It will also allow to reconcile with oneself for good
Who is Kundalini yoga for?
Broadly speaking, this yoga caters for the persons that are truly willing to change the relationship they have with themselves as well as the relationship they have with the outside world. Also, it has to be noted that no previous experience is required to dive into Kundalini yoga practice.
What is a Kundalini yoga session like?
Comprised of a broad range of techniques, it is a very dynamic and energetic yoga. 
The basis of the courses is called kriya: it is a comprehensive exercise that combines a posture (asana), a breathing (pranayama), a mantra, an energetic looping (mudra), an intention and concentration. Different warming-up exercises are proposed so as to stretch your spine and to prepare you to make the most of particularly deep breathings.
Kriyas are powerful static or dynamic exercises, the effects of which target some functions or organs. They aim to abandon the old repetitive and sterile schemes in order to favour new structures, thanks to which the deepest being shall be able to evolve.
The exercises reinforce the nervous system, improve blood circulation, increase breathing capacity, tone the digestive system and stabilize the mind. The physical exercises lead the practitioners to surpass themselves and to experience the relaxation and the fluidity in the tension. The physical body regains his flexibility, mobility and dynamism. The self-consciousness and the awareness of the world broadens, the comprehension of life deepens, allowing a growing feeling of balance and fullness. In addition to these kriyas, deep meditations and relaxations are proposed.
Practicing the "creative mediation" resorts to postures, mantras and varied breathings. It can be quiet or chanted with mantras and it is often accompanied with mudras (hands position).
Mantras are condensed patterns that are made up with a series of sounds repeated a lot of times. The music is very much present during the courses as it conveys the creative energy of Shakti (creative power). The chanted mantras ( chanted, mentally recited or listened ) are an entire part of the meditations or kriyas of Kundalini Yoga.
Meditation conveys the observation of thought without the judgment intervention. It is all about a time that we devote to ourselves so as to listen to one's body and mind. Observing without judging means attaining awareness.  
Relaxations between the exercises or at the end, allow the deep integration of the benefits of the course. Muscles relax, tensions are eased and the energy flows more easily. Relaxation allows letting-go. This relaxation feeling will influence all your activities and will help you to maintain your energy and let go all your worries and all your fears.
A Kundalini Yoga always starts and ends by a specific mantra and always takes place with a prayer called "mudra" with palms held together level with the chest, in order to ritualise the space-time in which the practitioner is going to reflect.
For instance, it is usual to repeat several times a mantra that is essential to this practice: Ong Namo Guru Dev Namo. In practical terms, it allows the individuals to celebrate the principle emerging from darkness to light. It is usually admitted that this mantra is necessary in order to connect oneself fully to the discipline.
The courses last one hour. They are flexible, a program is set up on a quaterly basis. The courses can take place outdoors during the fine season.
The Outfit
The clothing should be loose and comfortable to allow the achievement of postures. You must bring sport bottoms, a t-shirt, as well as a jumper and a pair of socks for the relaxation stage.
It is also highly advisable to practise yoga with an empty stomach or after one or two hours that follow a full meal.  You are expected to come with an empty stomach and to drink a glass of warm water 15 minutes before starting the session. You may eat fruits and energetic bars, drink a glass of juice one hour before the session to prevent you from being hungry while practising.