Yoga & Ayurveda : inseparable
Yoga heals the mind through the body, Ayurveda heals the body through nature and your nature.
Yoga, meditation, breathing and ayurveda, the same goal: your balance!
Combine yoga, meditation and breathing, and you have everything you need to find your original natural state: a healthy mind in a healthy body.
Le Cep and the Marie de Bourgogne Holistic Spa is in line with this quest, and offers you daily yoga, meditation and breathing sessions during your Ayurvedic cures. For this purpose, we have selected the best professionals in these specialties. The courses are adapted to the level of each one, and are given in the hotel le Cep, in a brand new yoga room.
The benefits of Yoga at the Ayurvedic Center Marie de Bourgogne
The classes offered by Donatella are a journey, a joyful and tasty sensory experience of inner transformation through the fusion of Natha Yoga and the Yoga of Sound. The classes are for anyone who wishes to be totally present to the experience, to develop their listening skills, to open their breath, to awaken their life force, to find flexibility, harmony, retreat and joyful unity. To reconnect to one's essence that aspires to live free in truth and light.
In order to integrate in depth and in time all the benefits of yoga, on the body and the spirit, it is recommended to practice regularly. A class always begins and ends with a ritual in order to respect and sacralize the space-time in which the practitioner will gather.
Goals : The 1st is health, the 2nd is knowledge and access to the energetic structure, and the development of personal energies, and the 3rd is the mastery of thought and mind
Nâtha Yoga
is a traditional holistic practice from North India, combining dynamic/static postures (âsana), breaths (prânâyâma), muscular contractions (bandhas), gestures (mudras), powerful static or moving cleansing exercises (kriyas) massages (nyasa), withdrawal of the senses (prathyahara), visualizations and concentrations (dharanas), deep relaxations, yoga nidra (guided scenarios between the space of old-sleep), meditations (dhyana), sound formulas (mantras) and geometric figures (yantra)
"To unite body and mind through breath and energy awakening, in order to experience directly in one's body the absolute dimension of the universe".
The Yoga of Sound
is the set of vocal and sound techniques leading to unity and self-knowledge, a direct application of the intelligence and vibratory power of sounds in fusion with movement, then non-movement (posture, art of breathing, mantras of transformation, sacred chanting, mudras, dances, dynamic meditations of Osho…)
Meditation
is a state of consciousness, not an action. To this end, several tools are proposed in order to taste the meditative state, it is a space of time that we offer ourselves where we become observers, listening to our body and our mind without judgment, totally conscious, aligned and united in the full presence of ourselves, in the moment… towards plenitude
Donatella's classes are a journey, a joyful and tasty sensory experience of inner transformation through the fusion of Nâtha Yoga and Yoga of Sound.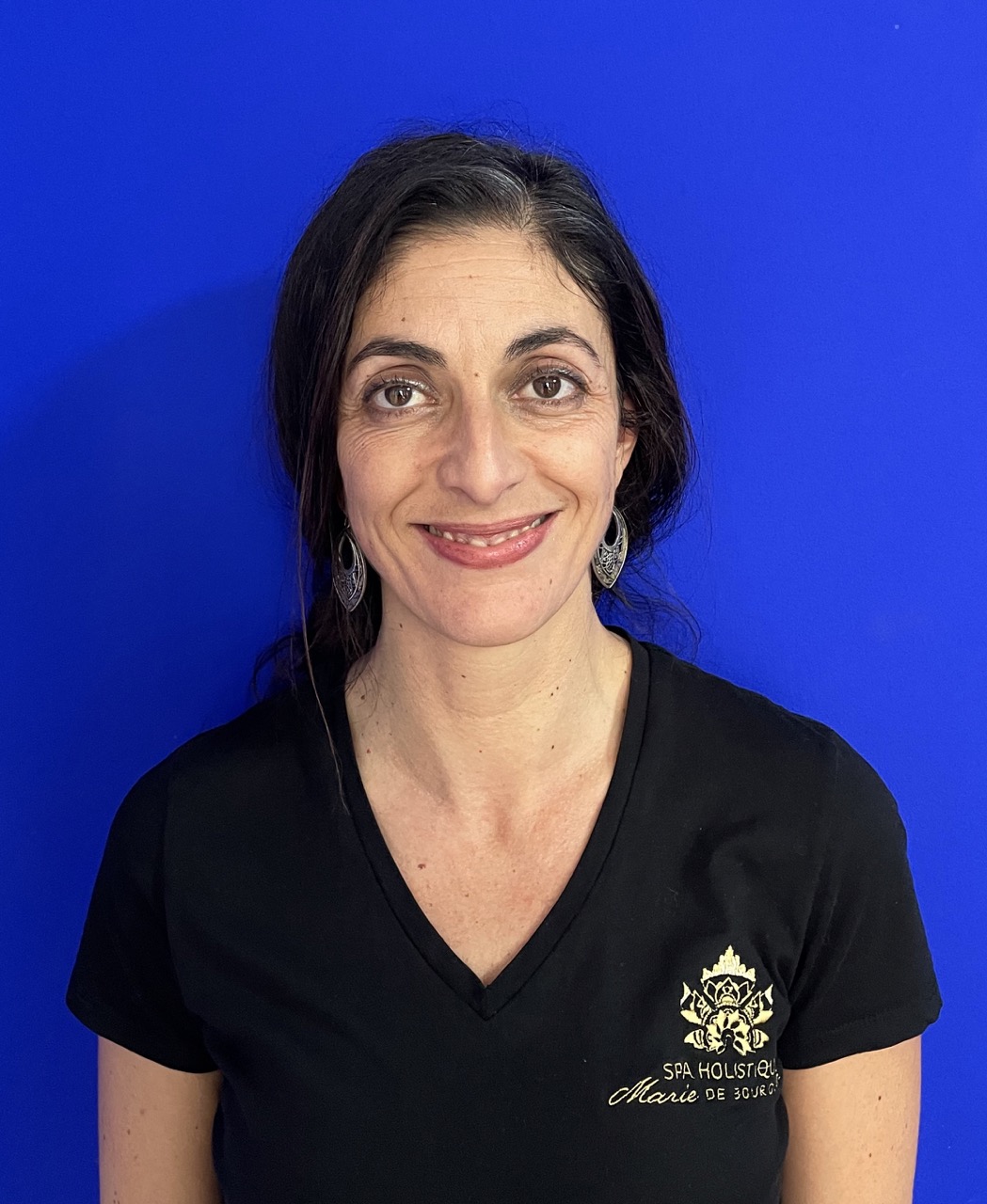 Donatella, your yoga teacher
Guide of inner journeys and holistic* health for 18 years, teacher of Nâtha Yoga and Sound Yoga, Ayurveda and Naturopathy therapist, Massotherapist, Sonotherapist and many other practices rich in experience… I enjoy transmitting the alchemy of my practices to as many people as possible.
*Holistic: The term holistic comes from the Greek holos (whole) and therapeia (care).
This approach apprehends the human being in its globality in the physical, emotional, mental, spiritual, environmental and socio-cultural sense.
Kalari yoga, the yoga of warriors at the Ayurvedic Center
Anandhu will also offer you Kalari Marma Yoga classes if you wish to open yourself to another form of movement. Kalari Yoga or Warrior Yoga is the oldest martial art that works on all the muscles of the body. It is a highly choreographed yoga inspired by nature and animals. It is an escape for the body and the mind.
You can also enjoy our yoga classes after a 30 minute walk through the vineyards of Beaune to our private space in the middle of the forest of the Beaune mountain.
This walk, conducive to reading the slopes and appellation, is a beautiful and healthy way to combine Burgundian culture and well-being!
Physical benefits
People who take advantage of these disciplines can notice positive benefits on their entire body such as their respiratory, digestive, nervous, lymphatic, circulatory, glandular, muscular and osteo-articular systems. They will generally be more relaxed and will improve their respiratory capacities.
Mental benefits
On the mental level, one can notice a regain in vitality and a reduction of stress.
This discipline can help you find a livelier spirit, while overcoming certain problems of anxiety or depression…
Emotional benefits
By helping us to become truly masters of our mind, it will be possible to regain a state of calm and a feeling of deep serenity.
For many, this discipline helps to get rid of negative attitudes, destructive thoughts or even behaviors that are harmful to our well-being. In general, it is considered that yoga allows us to find ourselves and to enter into a much more positive dynamic. It will also allow us to be reconciled with ourselves for good.